Tuesday's Grace: A Modern Day Miracle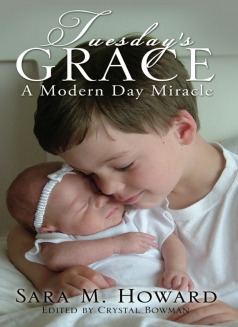 We were stunned when our plans for adoption suddenly turned into possible plans for a funeral. When the baby girl we were going to adopt was diagnosed with a life-threatening birth defect, the adoption process changed from hope to despair. In Tuesday's Grace: A Modern Day Miracle, readers journey through infertility, adoption, hospitalization, trials, blessings, and hope.

This true story captures life's roller coaster of emotions—from sadness and fear to peace and triumph. It's a story of friends, family, faith, and prayer that will give readers hope and encouragement, and the assurance that God is still performing miracles today.


---
God gave us this story and our Miracle. With thanks, we are giving this back to God. 100% of author profits from this book are being donated to Fidler's Farm for programs for troubled boys. My sister, Dr. Stephanie Fidler Psy.D., has had this farm based program as a goal for many years. For more information go to:
www.FidlersFarm.com
Group home update: As of 1/22/12 Tuesday's Grace has raised over $6,000! Thank you for all of your gracious support!
or contact author to order

What readers are saying:


"This is a Must Read for anyone encountering worry, despair, crisis, or loss and is searching for hope, which means this book is for everyone!" Penny Monetti Author of Choose to Dance and Called to Serve:Encouragement, Inspiration, and Support for Military Families.

"initial CXR was consistent with the prenatal diagnosis, however, a CT scan done 4 days later showed that the CCAM had vanished… I feel very honored and at the same time humbled by being the Bearer of that Good News... I found the book very emotional and yet very honest and straightforward personal account of the up and down roller coaster ride of a family who is dealing with the raw experience of having a sick baby in our nursery. For my part, I was referred to as Dr. Johnson." Dr. Winston Manimtim MD, FAAP, Neonatologist, Assistant Professor of Pediatrics UMKC

"Tuesday's Grace is an inspirational true story about the miracle of Grace. When reading it, I felt like I was reliving the Howard's adoption. Sara Howard is a gifted writer and Tuesday's Grace captures her myriad of emotions, unconditional love, commitment and faith through her adoption experience." Hillary Merryfield MSW, LSCSW, Director of Adoption Option, Inc. for 25 years


"I was inspired greatly by Tuesday's Grace because of the Howard's unrelenting faith through what would be any parent's worse nightmare... watching their child fight for her life. They showed what it means to truly ask for God's will. I could not put the book down and read it in one sitting. I was recently needing some inspiration, so I just finished reading it for the second time." Crystal Seyfert, Mother and Wife

"What a privilege it was to pray with the Howard family as they awaited the birth of Baby Grace. What a sorrow we felt at the news that she wouldn't be with us very long before going home to her Creator. What a marvelous witness to the church of God's presence in the world as the miracle of Baby Grace's healing unfolded before us. Tuesday's Grace: A Modern Day Miracle tells the story of God's movement among us in the life of one precious little girl and one family of Faith." Dr. David Hackett, Pastor and retired school district administrator



Suggested Links:

Learn more about my editor, Crystal Bowman. She is a national speaker and has written over 70 books for kids and three for women; many have become best sellers.

Learn more about the author of the poem Tuesday's Child, Irene Fridsma.

If you have a daughter or know someone in the military, you must read the books by Penny Monetti.

Learn more about kids 4 Courage, a non-profit faith-based outreach that celebrates courageous kids