Sara M. Howard
Life Coach/ Author/ Speaker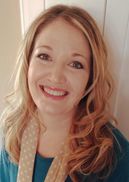 Purpose: To encourage others to find hope in this life.

---
This life we live can be difficult, painful, discouraging, and depressing for even the most faithful. But even in the most difficult times, we can find hope.

For everything that was written in the past was written to teach us, so that through endurance and the encouragement of the Scriptures [The Bible] we might have hope (Romans 15:4 NIV).

Find rest, O my soul, in God alone; my hope comes from him (Psalm 62:5 NIV).

May the God of hope fill you with all joy and peace as you trust in him, so that you may overflow with hope...
(Romans 15:13 NIV).

Even youths grow tired and weary, and young men stumble and fall; but those who hope in the Lord will renew their strength (Isaiah 40:30-31 NIV).

A faith and knowledge resting on the hope of eternal life, which God, who does not lie, promised [to those who believe and trust in him] before the beginning of time (Titus 1:2 NIV).